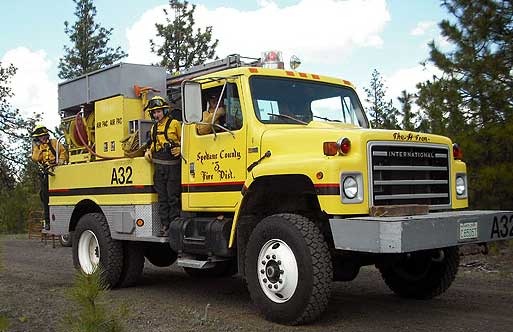 The District is made up of 7 career personnel and approximately 120 paid on call employees (volunteers). The volunteers take a lot of pride in serving their community in local events, public service calls and emergency alarms. There is an overwhelming sense of accomplishment and satisfaction after returning from an alarm.
Being a volunteer firefighter takes a lot of commitment. The training is broken down into 3 phases, Spring, Fall and Winter. The spring phase, which starts in April, is the Wild land Firefighting, Hazardous Materials, and Emergency Driving training taking approximately 60 hours. The Fall phase starting in October is the Structure firefighting training, approximately 100 hours and the Winter phase, starting in January is the Firefighter First Responder (medical training) which is approximately 60 hours. During the 3 phases of training the recruit is placed in a probationary fire-fighter position for one year until all training is complete.
Once one of the phases is completed the firefighter is allowed to respond to alarms that involve the training which that recruit has just completed. In addition, the recruit will start attending station and district training on a monthly basis until the next phase gets started. During the 3 phases of training the firefighter will have some training to complete at the station level.
When all three phases are complete the fire fighter will need to attend station and district training. This averages out to be approximately 3 times a month. Oh, by the way you are getting paid for your training and alarm time. This is why the fire fighter is technically a paid on call employee.
So, is the making of a fire fighter in your future? To get started, please contact Station #31….at 509-235-6645 or Download The Volunteer Application.